Ireland, the Uk and on to the Netherlands for further Improvements to Ngahue IV
Circumnavigation Page 5 - Our last miles -> First Improvements carried out in Swanwick marina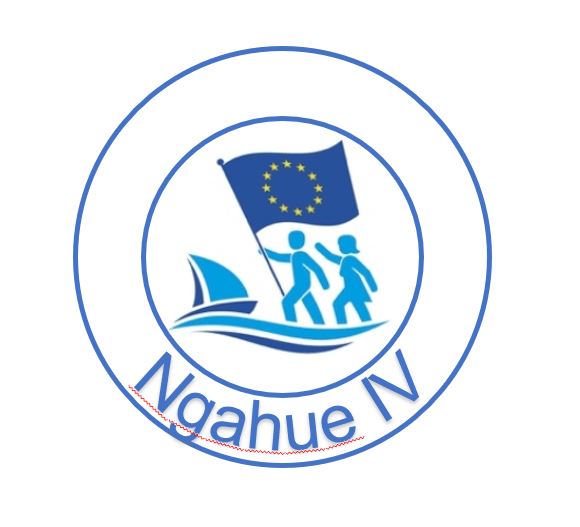 June 2018 - The Azores to Ireland

:


We left Ponta Delgada (sometimes also spelt as Punta Delgada) on Sao Miguel with as firm destination the Scilly Isles in the U.K. And in fact this was registered by Portuguese customs as our official destination on our clearance papers. Now if you look at the Y/B Tracker page showing our route to the Scillies, it will become abundantly clear that we had some challenging weather systems to deal with en route. The 1100M trip ended up being nearly 1400M; and it was a combination of sailing and managing our fuel for required motoring. The diesel tank gauge is slightly wonky and over reads and under reads at will. So just to be safe, we restricted our motoring a bit to be sure to be able to reach the Scillies should we end up in what I refer to as "windless zones" (and we had a few of them en route). When we arrived at our destination, the fuel gauge seemed to indicate that we had used up 700 of our 850 litres on board. Filling the fuel tank showed that we had used only 555 litres. At least we now know what our fuel consumption is (about 5.15 ltr/hr for 6 knots of speed through the water in light to moderate seas! The further we came to the U.K. and the Scillies, the more it became clear that we would have to contend with light to moderate easterly winds to reach our destination. Bad memories of spending 3 days tacking across Puerto Rico raised their heads and the most reasonable approach seemed to be to see whether we could go to alternative destinations. Two alternatives jumped off the chart: Brest and Cork. Well, we know France (though not Brest), but had never been to Ireland (by boat). So Cork it became.

And to help us on our way, the wind went slightly more to the south-east and even east-south-east so that we could lay a comfortable course for the South coast of Ireland. The only worry was really that our charts for the place were very basic, and so we approached Cork with some trepidation as individual dangers weren't shown on the (very large scale) charts (electronic or paper) that we had. We also didn't have an Irish courtesy flag, and our first days in Cork were flagless, until we found a chandlery to remedy this unfortunate situation. We ended up not in Cork City itself, but in Castletown (the 2018 Reeds almanac page on Cork doesn't quite show the full harbour - we must write to them to remedy this in future editions - this also shows how "lightly" equipped we were in the chart department for this particular destination). Our marina of first choice said they were full, at least for big boats like a Hallberg-Rassy 53. So we timorously tried the Royal Cork Yacht Club, who happily had space for us. Of course we would have to arrive just when the tide in the river was pretty strong, so tying up to an empty berth was a challenge. So was tying up to the fuel berth (an offending Elan 33 needed to be removed to make space for us). But by the time we moored in our final visitor's berth, things were fine, especially as Niall of the marina was at hand to take lines and ensure we didn't squash a couple of half-tonners ahead of us.

A few hours after arrival, Irish Customs arrived, complete with sniffer dog (looks can be deceiving: he, the dog, looked so nice and "cuddle-able", but was, apparently, the service's best dog for sniffing out drugs). Customs were absolutely charming, and didn't even remark on our missing courtesy flag. Positively the nicest Customs visit ever! We were now free to visit Ireland, with lots of very good weather to accompany us (courtesy of the area of High pressure that had given us the easterlies to reach Cork in the first place)!

In the first block of pictures from our trip across: a dramatic Atlantic sunset; a Portuguese Man-of-War, with behind it a Portuguese "Baby-of-War"; and the Fastnet Lighthouse with the nearly full moon setting towards the end of our 11th night at sea. In the second block of (two) pictures, Ngahue IV (embarrassingly remarked on by several people at the RCYC as "that big boat") at the Royal Cork Yacht Club and a picture of some of the beautiful Irish coast-line as we arrived...
| | |
| --- | --- |
| | |
Needless to say, we truly liked Ireland, and instead of spending just a few days there, we stayed 2 weeks. To go and see a bit of southern Ireland, we rented a car (horrors - a manual gearbox and the steering wheel on the wrong side...) and discovered that Ireland was a slightly bigger island than those that we had driven in previously... Nevertheless, we saw a lot during the two days we enjoyed the company of our little Hyundai i30, seeing Cobh, Blarney, Killarney, Tipperary, Adare, and multiple other places and vistas across the south of the island. Here are just a couple of shots...
The United Kingdom - Scillies (...skipped :-(...)and further East:
After spending about 2 weeks in Cork, it was time to move on. The area of High Pressure that had brought us to Ireland in the first place, continued to dominate the weather charts. So when evaluating our various options for "where next to", it looked increasingly likely that we would give the Scillies a skip and head straight on to Falmouth and Mylor marina, which had been our marina of departure in 2017. Unfortunately, the beautiful weather had brought out our fellow yachtsmen in droves and Mylor informed us that, quite exceptionally, it was full. So were a couple of other marinas we contacted, and even Mayflower Marina in Plymouth told us that for starters the only space available for a boat our size was going to be OUTSIDE on their breakwater. Winds being light again, we would have to rely on our Volvo-Penta to help get us to our destination!
The trip from Cork to Plymouth went really well, with light winds most of the time and just 9 hours motoring needed during the 45 hours it took us to complete the trip. Arriving in Plymouth Sound well past midnight, the wind suddenly picked up and reached 23 knots, making for an interesting and spirited entry as Plymouth harbour at night is a little bit like a Christmas that has been decorated by an enthusiastic 5-year-old. We managed to pick our way through the reds, flashing yellows and greens to reach Mayflower International marina (been going there since 1991!). After two days of bouncing around on outer breakwater, we were given a new berth, right under the marina office, as pictured here... Of course we drew lots of attention as we were the first boat people saw when coming down the companion-way to the pontoons...
Sea areas Wight, Portland and Plymouth -> On our way to Swanwick Marina:
After Plymouth, our travels took us to Brixham, Torquay, Portland and Poole. From Poole we would head for Swanwick marina, where Ngahue IV was going to be taken out of the water for in-depth work to her steering system, exchange her Autopilots, and add an SSB for participating in the 2020 World ARC, etc. etc. When we were in the Caribbean, we were considered a medium-sized live-aboard boat. And when moored between a couple of big cats (catamarans), we were usually discreetly invisible. Now suddenly we were considered to be "a big boat"... This clearly had two down-sides: a) mooring fees for "big boats" turned out to be pretty steep in U.K. marinas (never the cheapest places to begin with); and b) the number of places available for "big boats" were few and far between. This meant phoning ahead and adapting our travel plans to the availability of places in the marinas we wanted to stay at. Also, since the Azores, our anti fouling was beginning to let us down. For more than 15 months and 12.500 miles our Micron 77 Two Seasons anti-fouling had kept our hull perfectly weed and shell-free. But from Punta Delgada onwards, we seemed to be accumulating algae upon algae on and under the water line. This growth also slowed down the boat a bit. The good weather that had blown us towards Ireland continued throughout July, even if most of our trips along the south coast needed to be completed with our Volvo Penta thumping away - now at an extra 50-100 Revs.
Whilst en route from Torquay to Portland, we saw an AIS target called 'gnahue'; we had seen this once before and were now curious to check it out once and for all as it looked like ngahue but misspelt! We adapted our course by 30° and thus intercepted 'gnahue'. Thanks to 4G and marinetraffic.com we saw that 'gnahue' was indeed my original HR29 - still going strong as the photo below shows. Lots of spontaneous waving happened when the two Rassies passed within sight of each other! When we were in Torquay, we visited Agatha Christie's house on the River Dart taking the steam train to Greenway. And there's also a sunset over the boat travel-hoists of Portland marina.
Whilst in Portland, there was a really bad weekend with winds reaching gale force in the marina! We put off our trip to Poole for a whole 24 hours and were still buffeted by the remaining wind on the Monday morning. But our timetable to get to Swanwick was getting tight: oh, the pressures of having to be somewhere for a given time... In Poole, the good 2018-summer weather returned, allowing us to enjoy the delights of this town, which is also home to the RNLI (an organisation I have been a Governor member of since 1990).
From Poole the next leg of our trip was to get to Swanwick by day and during Cowes' Week. After months of sailing around a half empty Atlantic Ocean, being surrounded by unmarked lobster pots, wayward motor boats, and other sailing boats that always seem to have priority over us, this was a harrowing trip. But we made it, nevertheless. Only to discover that Swanwick marina had attributed us a berth where the far end was much used up by a small fishing vessel that, unfortunately, had been quite invisible when we approached it. After some wild manoeuvring, we managed to fit our "big boat" in the berth without scrunching into the lil' neighbour... Two days later we moved to the marina's working area, where Ngahue IV was prepared to be lifted out.
Meanwhile we had made a quick dash to Brussels to sort out my car's (Belgian) MOT and visit the Netherlands to see my mother. In Swanwick, Maricom continued beavering away (see middle picture) at the boat's new communication gear and new electronics, and Allspars removed the kicker/downhaul and backstay tensioner for a revision and clean out with new oil. Our propeller looked a sorry state (yes, that thing in the picture on the left is a Flex-o-Fold propeller) and needed lots of cleaning plus a new anode, making motoring a lot more efficiently as we head towards the Netherlands...
At last(!?): Arrival in The Netherlands:
From Swanwick marina our travels took us first to Brighton (visiting the Brighton Pavillion, the Lanes and getting some much-needed winter clothing from Marks & Spencers). We then headed off to Dover, picking our way through the various new channels in the harbour that have been created during the building of the new marina there (they hope to open before the end of 2019). Twice we took the train to Canterbury to visit the cathedral there (with in the cloister the grave of Sir George Gipps and his wife Lady Elizabeth). And finally, we sailed to Chatham, avoiding the traps of the Thames River delta and the new windfarms that the UK has been building everywhere. One day saw us going to Rochester to visit the cathedral and castle there; and we managed two visits to Chatham's Historic Boatyard.
From Chatham the trip went to Stellendam to enter the Dutch inland waters.
The moment your mast-height exceeds 18-19 metres, you are restricted in the places where you can enter the Dutch inland waters. We opted for Stellendam, which is best approach near high water. A favourable Westerly wind took us from the Thames Estuary to Zeeland, although near the Belgian coast we were asked to zig-zag a little to stay away from a windfarm under construction. Building windfarms must be a lucrative business because they are emerging like mushrooms; the one we were kindly asked to avoid wasn't on our charts which had been last updated at the beginning of the year! In Stellendam we saw a sistership, HR53 Obsession (formerly Lady of the Dawn). Her rig looked very new and a bit strange. Indeed, we learned later that the new owners had found an HR54 mast to put on their boat. So there's one HR53 out there with a much taller mast as well as being fractionally rigged. Once through the locks in Stellendam we were told that our tall mast meant that we would need to go through the "professionals'" locks. It's pretty scary to be in a lock with these bigger boats... A start to our future Panama experience!
After a busy day passing under the Haringvliet bridge and transiting three sets of locks, we arrived in Bruinisse where we prepared the boat for her winter lay-up in the good care of the Yachtservice Van Swaay company (boat pictured here ready for lifting). A quick dash by "geisha" our Japanese car, to Ellös to collect a car-load of goodies from Mellie Rassy at HR-Parts (including a second electric toilet...) took our mind off the sad fact that our floating-home-of-15-months was floating no more. But all for the good cause and for a better re-departure in 2019, when we start with the ARC Plus to St Vincent and continue with the World ARC from St Lucia (in January 2020).
This page is now complete - please move on to Circumnavigation Page 6...
Return to Circumnavigation Start page