Our Second ARC: the ARC Plus
Circumnavigation Page 8 - The 2019 ARC Plus: from the Canaries to Saint Vincent via the Cape Verde Islands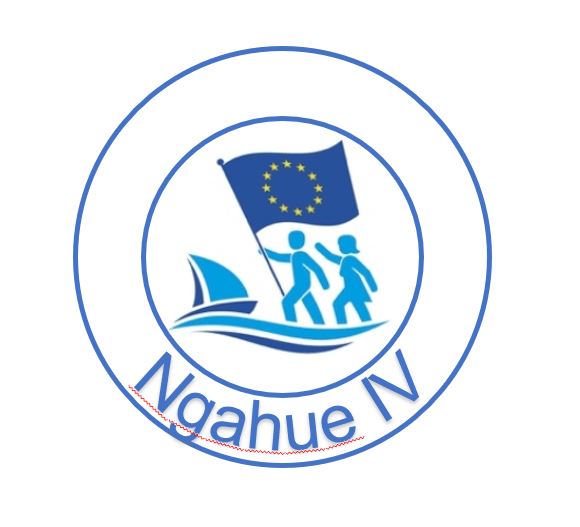 And they're off...:
On Sunday 10th November 2019, nearly 100 boats (mono-hulls, catamarans, trimarans and a couple of super-to-mega yachts) carefully motored out of the muelle deportivo - the marina and left Las Palmas harbour on the first leg of the 2019 ARC Plus to Mindelo in the Cape Verde Islands! As always where there's a group of boats leaving for the same destination, everyone is jockeying for best position. To avoid getting in the way of others, we tend to hold back and let the others get on with their business... During our first night at sea, an American boat insisted on shooting in front of our bow with a CPA (closest point of approach) expressed in double-digit metres. They then spent 3 hours weaving and bobbing just 180 metres in front of us, constantly shadowing our attempts to get away from them! In normal circumstances I wouldn't have minded too much, but the ARC fleet left Las Palmas with a good Force 6 blowing for the first 3 days. Not circumstances in which you stay so close to another boat.
The trip down to the Cape Verde Islands was relatively uneventful. It was very fast, even for us, during those first few days. But progressively the wind and seas diminished and our speed dropped from the 8 knot mark to just above the 5 knot mark. We had a couple of visits from dolphins - always a treat; and sailed by a bright full moon at night. But the weather was grey (little work to be done for the solar panels) and the nights (and even days) were cold!
Once arrived in the Cape Verde islands, we found that the marina was quite a windy and "swelly" place; we broke a mooring line, and neighbours broke off a pontoon cleat and one ARC participant fell into the water as he misjudged the distance between the wobbly pontoon and the (wildly) gyrating boat. Not the best of places in the world to leave your boat, despite the view expressed by the local ARC representative that things were fine (but she wouldn't leave her own boat here herself!)... We made some very minor repairs to the boat, notably cleaning water and toilet filters: as Roland Olsson says about electric toilets -> their main enemy is human hair that gets into the macerator mechanism and then picks up toilet paper; result: the toilet no longer works - the repair job is simple enough, but requires flexible fingers!
The ARC had organised two excursions for us: one to visit Sao Miguel, the island where Mindelo is the capital city; and one to Santo Antao. Whereas San Miguel is completely arid (unless you go really high up the mountains where condensation and light rain enable plants to grow), Santo Antao is quite wet and has a lot of vegetation (just look at the picture above where the clouds literally travel over the hill-top!). A real pity about the poor marina facility in Mindelo as this detracted from the pleasure of discovering the Cape Verde islands. The average annual income per head of the population is some €500 (we were told) and this was reflected in limited offer of fruit and vegetables and ships' stores available. Fortunately we had filled up the boat enough in the Canary Islands, because relying (too) much on the Cape Verde islands for provisioning is not to be recommended. When people have so little themselves, it seems a bit like thievery to be depriving them of their stores just for our tourist sake. But the authorities DO want to develop tourism, so we believe it is also our duty to play the game along with this!
After several days, the ARC fleet set off again to cross the Atlantic. There was a good breeze blowing when we left, and for the first couple of hours Ngahue IV was out in front with the fast boats. But as the wind dropped, the other boats caught up with us and soon left us behind in the rear guard of the fleet. We're getting quite used to this by now classical scenario. Our crossing took just over 16 days during which we covered some 2240 Miles. Initially, the wind was sufficiently abaft the beam to be able to sail with main and genoa. Then we needed to adapt our course to be much more before the wind; we furled our main and advanced under head sail alone which after a few days we poled out to gain more stability in the sail and go that little bit more before the wind. Throughout this leg of the trip, we noticed that our EPEX genoa was beginning to delaminate quite seriously, and we ended the crossing with the whole bottom strip of taffeta being completely stripped off the underlying body-structure of the sail (see picture below showing the beginning of the delamination process). Elvstrom believe that there was a production error when our sail was made (probably due to a faulty delivery by a supplier), and a completely new genoa will be sent to us in Saint Lucia. Our mainsail and cutter sail (the latter never used!) are more than probably afflicted by the same problem as they were manufactured at the same time. There are some issues already with our main, but because it's never been used as intensively as the genoa, these are so far still in e manageable phase: patches are stuck over the spontaneously developing rips in the foot of the sail. So far no news from Elvstrom what their intentions are with regard to these two sails...
Our already now third Atlantic crossing itself was relatively uneventful. Compared to 2017, there was a lot more wind, and, especially, a lot more swell and heavy seas; so that so that the boat rolled much more than last time. This is when you appreciate all the handholds inside the boat as you try to move around inside and on deck. Each day we duly removed a couple of dead flying fish (see photo), which Sir Frances Chichester apparently fried and ate (according to his autobiography which I read 'en route'. We arrived in Saint Vincent's Blue Lagoon marina just after midday and the marina's pilot took us safely through the reef that protects this bay (we draw too much to go through the dedicated channel for entering the marina. After the pontoon-welcome by Mark and Cecile, the two ARC yellow-shirts in Saint Vincent, we cleared customs (sweating pints of water in their very hot customs house) and could start enjoying life in paradise (See pictures below). Now we discovered that either in Las Palmas or in Mindelo some creepy-crawly 6-legged insects (ugh) had managed to sneak on board. The offending stowaways have been zapped with the appropriate aerosols and the boat meticulously cleaned. Hopefully this will suffice and we won't have a full-scale invasion of them. We've also been exploring the Grenadines - when even the local (stray?) dogs can hang around in an environment like this, then you know that you've come to the right place...(see picture in first block). Interesting was to see For Charlotte high over Kingstown in Saint Vincent, with the canons pointing inland (in case the natives got "uppity" (see picture in second block). The so-called billionaire's marina in the Grenadines which we visited from Saint Vincent is still mostly empty - but a fantastic infrastructure! With an absence of boats, the shopping mall can't be doing too great a business! Here we are in a fast RIB and still dry - later on as the RIB gathered speed in choppier waves, we got very wet!!
After the ARC team and most ARC Plus boats left Saint Vincent, we stayed on a few weeks to prepare the boat for her next big trip: crossing the Caribbean Sea (approximately 850 miles). We were helped by a local "boat boy" (man would be a more appropriate designation) who cleaned the hull and topsides of Ngahue IV. For us this was a great help as we perspire very heavily when working in the tropical sun. Together with our friends at Maricom who have done most of the electronics work on board, we have a new and efficient wi-fi booster on board and it looks as if we have solved the many alarms that our Raymarine autopilots were giving off since May 2019... Following a software update of our Furuno instruments, the Raymarine autopilots were regularly "alarmed" although no one seems to understand why. The only explanation is that the navigational data now being fed to the Raymarine pilots by the Furuno instruments is in a different sequence or format than before. And therefore the Raymarine pilots are "alarmed": sometimes several times in a matter of a few minutes; sometimes not at all for 12-16 hours at a time. Oh, the joys of modern electronics!! Although just when you think you have the problem licked, it comes back again...grrr!!!
Saint Vincent is also where the first Pirates of the Caribbean were filmed, and we enjoyed looking at the sets and the locations where parts of the film were shot. We also did the only honorable thing that Cap'n Jack Sparrow does in the "Pirates" series: consume rum. To this end, with our friends of "Cuvée", an Australian yacht joining us on the World ARC, we visited the local distillery of Sparrow's rum! Furthermore, we went to the swimming pool (nearly) every day and built up our physical fitness. Other activities included occasionally looking after the boat and updating all on-board computers (especially Win 10 computers are terrible chatterboxes!). After (only) three weeks of lounging around in the Blue Lagoon marina, and enjoying our sundowner on the foredeck (nearly) every evening, we decided to push on to Le Marin in Martinique to do some "continental" food shopping before heading off to Rodney Bay marina from where the World ARC will depart in January 2020. Our friends of HR43 Fredrika, the Leuenbergers, were also in Martinique, where Michael was recovering from a broken arm which he suffered during the last part of the ARC Plus Atlantic crossing... From Martinique we crossed the Martinique-Saint Lucia Channel and were probably the last yacht to check in for 2019.
January 2020: This page is now complete - please move on to Circumnavigation Page 9 for the start of our World ARC.
Return to Circumnavigation Start page