Second Departure for our Circumnavigation: the WORLD ARC
Circumnavigation Page 9 - January 2020: the 2020 World ARC leaving from Saint Lucia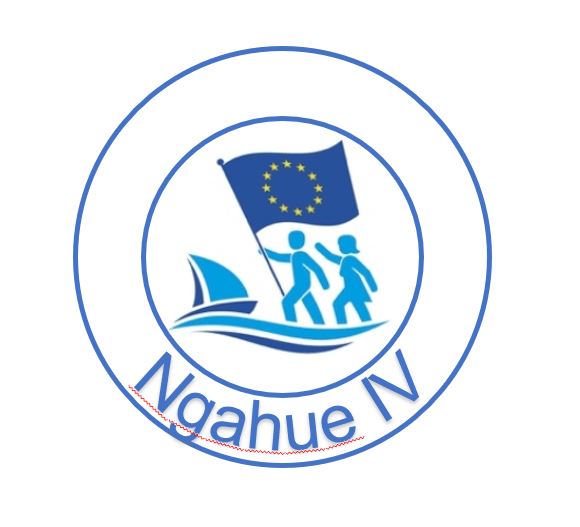 And they're off...:
On Saturday 11th January 2020, some 34 boats (mono-hulls and catamarans) left Rodney Bay marina in quite breezy conditions for the first leg of the 2020/21 World ARC, headed for the marina in Santa Marta in Columbia. With a strong easterly breeze blowing, this was going to be a pretty fast leg... But before getting this far, there were a lot of preparations in Rodney Bay marina in Saint Lucia. Just some small niggling repairs (e.g. the Watermaker leaking a drop at a time), provisioning at the local Massy supermarket, and lots of World ARC - abbreviated to WARC - seminars to follow!
Ngahue IV managed several record-breaking daily runs of 175M and even 199M for one day, our record to date! The conditions at sea did mean that some of the trip was uncomfortably rolly; thank goodness our boat is equipped with lots of grab handles to hold on to. Pictured here is Ngahue IV motoring out of Rodney Bay marina for the start line. As we approached the Peninsula De La Guajira, a place well-known for its wind accelerations, conditions increased from Bft 5-6 to 6-8. We began to fear our entry in Santa Marta harbour. On our last turn into the harbour, we shipped a big wave in the cockpit - an absolute unique experience. Thankfully, the wind abated quite significantly as we entered the harbour and the marina and could dock in relatively quiet conditions. Nevertheless, we failed to sail across the finish line as this seemed too dangerous at night and we went around the Isla de La Morro to reach the marina. During our stay in Santa Marta, the wind reached severe gale levels IN the marina and the boat had to be attached to the pontoon with multiple lines! That was quite an experience!
The World Cruising Club had organised a number of excursions in Santa Marta, e.g. to the Fundehumac project that the World Cruising Club supports (see photos). Together with the owners of Cuvée, an Australian Beneteau 51.1, we visited Cartagena: a most amazing excursion.
From Santa Marta the WARC fleet sailed on to the San Blas islands. The wind that had been overly present on the previous leg of the voyage was now sorely missing. Soon most boats had switched on their engines to maintain respectable passage times. Only Ngahue IV kept on sailing until our SOG had dropped to 0.6 knots. At that stage our Volvo Penta was also switched on, but i the meantime the rest of the fleet had managed to get some 20-30 miles ahead of us. So when the others were enjoying their first sun downer in the San Blas, we needed to take in lots of sail so as not to arrive amidst there coral rif islands in the middle of the night. The San Blas archipelago represents 340 islands where the Guno Indians live. Their wives embroider and sew pretty Molas which the men sell to visitors. Islands are generally (very) small - and many uninhabited. It was a pity that we encountered some heavy rain during our visit...
Once checked into Panama at Porvenir, a small island with a disused runway and two international call boxes(!), the fleet continued to Shelter Bay marina to prepare for the Panama Canal transit...
In Shelter Bay Ngahue IV received (at last!) her new Elvstrom genoa. She was lifted and cleaned for the Galapagos islands as well as fumigated, and further provisioned for the Pacific. We then had a relatively uneventful Panama Canal transit with two very competent and friendly Canal Advisors (=pilots in training): Andrew and Jorge. We did our transit in two hops: first the Atlantic locks, staying one night on the Gatun Lake moored to a buoy (pronounced like the Dutch word "boei") with our fellow 'transiter' Marja II from Helsinki, Finland and the American catamaran Libeccio. The next day we proceeded down to the Miraflores/Pacific locks (yes, the boat in the picture is us, courtesy of the Canal cameras). Once in Panama City, we moored Ngahue IV in La Playita marina and participated in the World ARC excursions that should have taken place in Shelter Bay (Laura received a flower thing from an Embera Indian girl to wear). We did some more provisioning; filled all our tanks to the brim and headed off to the Las Perlas islands in the Pacific, en route to the Galapagos Islands! An intermediary stop was made in the Las Perlas islands, where the World ARC gave a final briefing before going off to the Galapagos, some 850 Miles 'down the road'. The World ARC fleet was now down to 30 boats and just over 120 people!
Weather from the Perlas islands to the Galapagos started off with a very light breeze that then over a 24-hour period increased to a quiet half-gale: we sped along at top speed, only to see the wind blow itself out, thus obliging us to motor a long time - like most of the rest of the WARC fleet. We arrived in San Cristobal, dropped anchor and waited for nearly a day before the Ecuadorian authorities boarded Ngahue IV - there were suddenly 9 persons on board (3 divers had already checked out the cleanliness of our hull when we arrived) to clear us into the Galapagos.
Once in the Galapagos, we visited two islands: San Cristobal and Santa Cruz. Documentaries by Cousteau, National Geographic or David Attenborough will do much more justice to the wildlife and the biological specificities of these unique islands. We enjoyed them for what they are: a special habitat for some very strange creatures, many of which I would personally not wish to encounter on my own in a dark alley-way at night. As Carnaval raged in Maastricht (the home port of Ngahue IV) we were puffing and sweating under a tropical sun and enjoying the trips organised by the World ARC for us and also visiting the islands on our own... So our photos and memories are more non-scientific in nature - we also posted a couple of sweet scenes on Facebook! Oh, and by the way, the collection of big land turtles shown here are each about 3x our age, according to Camilo, our guide!!!
From the Galapagos, our voyage was meant to continue to Hiva Oa in the Marquesas. Depending on conditions this should take as little as 15 days or as much as 20-25 days... So we again filled our tanks as much as possible (this proved quite difficult in the rolly conditions of our Puerto Ayora anchorage), stuffed food and lots of drink everywhere and set off on this, our longest leg in this whole circumnavigation! Well, the rest of the World ARC fleet set off as we waited for an essential correction to be made to our Zarpe (departure form from the Galapagos); As there was no usable wind forecast for at least 2 days, we soon caught up with the others as we motored towards the more southern latitudes - hoping to find wind...
Long ocean passages are characterised by a quiet (some would say boring) routines. In the tropical latitudes, your days are quite evenly split into 12 hours sunlight and 24 hours of darkness. The darkness is quite relative during full moon periods when the sky and the sea are lit up by the Moon. What we found on this passage was that we seemed to be continually sailing under dark grey clouds. This was rather discouraging: discovering another grey day after another dark night! Also, our solar panels didn't get their full dose of photons to fill the batteries during the day. You expect regular squalls, but these seemed generally less violent than in the Atlantic. The wind would increase from 10-12 knots to around 20 knots. Though on one occasion we had more than a day of continuous rain. Somewhere a leak appeared in our coach roof and found its way into the galley cupboards and from there into the fridge. When we noticed that something was amiss (food swimming in fresh water) we had to empty the fridge, bail out the water, and put everything back again. Frustratingly, I still haven't found the origin of the leak (and no nautical Darwin to ask about it either); although I could trace the trickle of water running along the deck and see where it reached a bulkhead before running down to the fridge.
The trip started off with the wind (once it started blowing properly after about 2 1/2 days of motoring) just abaft the beam. For more than a week we broad reached towards the Marquesas islands. Once the wind started going further astern, and became light and flukey, we decided to start using our Code 0 (which actually looks more like a Yankee). We started setting up the sail, when suddenly the lower fitting let go and the sail was flapping from the mast top like a huge banner. The roller mechanism at the bottom of the sail was swinging around wildly, ready to decapitate whoever got in the way. The sail was progressively lowered, hoping to catch it before it ended up in the water - which of course, inevitably, it did. Laboriously, it was hoisted back on deck and we returned to using our genoa - which we now poled out. Upon inspection, we discovered that the bottom swivel wasn't at all fixed and simply screws into place. The previous owner had very helpfully oiled the screw-thread, so the swivel had simply unscrewed itself and become undone. You wonder which semi-intellectual quasi-engineer thinks up such crappy solutions!!
And then, suddenly, we received a whole spate of alarming rally updates from the World Cruising Club. As the world went into overdrive with the Corona virus, it appeared that our own Marquesas destinations were closing down quickly and the Polynesian authorities wanted us all in a single place: Papeete on Tahiti. Suddenly our longest leg got longer by a quarter! For many boats this posed a problem and, despite warnings not to do this, they headed to Nuku Hiva for rest, provisioning and fuel. We simply plodded on...
During our extended leg to Tahiti, we twice ended up in a "wind hole" where 90% of our daily progress was provided by the Equatorial current and approximately 10-12 hours of slow motoring at night (with the engine room open to the cool air so as to put as little stress as possible on our engine). Fortunately we had enough fuel on board for this, and even though our water tank had been only three quarters full on leaving Puerto Ayora we also succeeded to manage our water supply and still had about 200 litres left at the end of our trip!
After 28 days at sea, covering a distance of 3735 miles we arrived in Papeete, where the port captain initially didn't want to let us in - panic, as it was quickly getting very dark and there seemed to be rolling waves around the harbour entrance: no a place where you would want to anchor! Fortunately the port captain relented and let us in to the marina where our World ARC friends were waiting in the marina with torches to guide us in.
So here we were in Papeete, the largest city of French Polynesia, confined as the rest of France and most of the world. Ngahue IV is moored in the Marina de Papeete, surrounded by laid up cruise ships (they just have a skeleton crew on board, but manage to make enough noise for a full crew!). The local engineer recommended by the WARC will be able to do a relatively complete engine and generator service, weld a leaking generator exhaust, and sort out our hot water tank which looked like it had sprung a leak (it actually had) and was filling the engine cooling circuit with fresh water (see more below). Our house batteries, which had been irregularly charged since La Playita marina, were slowly being brought back to their full capacity. Here still at only 603/660 AH - several days later right up to the full 660/660Ah. Poutini, our dinghy, had also sprung a leak in one of its 3 air chambers by rubbing in the davits over a 4-week period. But so long as the confinement period lasted, we were not allowed to put Poutini into the water and check what exactly has gone wrong. Once we were allowed to "play around" in the marina, Poutini was very useful to remove "la barbe" (the beard that had started growing on Ngahue IV). The marina in Papeete is pretty bad for weeds growing on hulls as all the rain water from the hills transits through it towards the sea. During a cool and windless period we got up early and refurled our Code Zero and put it back into its bag (on the photo it's still drying out and airing a bit - that evening it was all "in the bag"). And further we waited for guidance from Elvstrom as our mainsail had begun to rip and delaminate (see photo) - just like our genoa did. Their advice was to carry out a temporary repair in Tahiti so that the problem could be fully solved in New Zealand, where Elvstrom will supply us with a new sail - to be delivered on board in Whangarei!
Confinement was supposed to end in mid-May (although Polynesia and mainland France are slightly out of step because some decisions can be taken locally). Starting end of April some flexibility had been already introduced. From early May onwards, deconfinement was gradually introduced, making local visits a lot easier. Of course the next issue was to decide how to continue our trip, which of course depends on how quickly the world around us (notably the neighbouring island kingdoms) would be opening up to free circulation of travellers and their boats again... As most of this looks like being a waiting game, we decided to make the best of our confinement in Tahiti and start looking around, initially around the marina and Papeete's city centre. With less strict confinement rules, the ban on selling alcohol for instance was lifted very gradually... Papeete is also known for its city house art: here two examples of such House Art in Papeete and the old colonial style of the town's buildings!
Thanks to our fellow World ARC colleagues, we got to meet Tracey of "Unique Tahiti". Tracey Thomas, originally from Brighton, has lived in Tahiti for more than 15 years and set up a successful touring company on the island (easily found on Google). Thanks to Tracey we have participated in a number of her tours: visiting large and small Tahiti, trekking through the inlands on the island to visit a spectacular waterfall, and to see an evening of traditional Tahiti dancing. These activities can be seen in two films posted on You Tube (see You Tube page). Here are just three pictures...
When Dominique Fily did our regular engine service in April, we noticed that, after 25 years for faithful service, our calorifier was suffering from an internal leak: fresh water was seeping into the engine's cooling circuit and inadvertently filling up the expansion tank! Not good, especially when you're told that no new calorifiers are available in French Polynesia. Fortunately, after some phoning round, Dominique found a new Isotherm calorifier in a local chandlery. Although the unit had a capacity of only 40 litres instead of the old one at 60 litres, we decided to go for the smaller replacement just to get the issue sorted out. With just two people on board, 40 litres is in any event more than adequate. In the end, the repair was relatively straightforward: drain the old unit - remove it (HR has made door openings just big enough for this 46cm tank to pass through) - adapt the connections, and refill. Finished... Here are 3 pictures of the operation...
A leak never comes alone, as we discovered a few days later when our freezer compressor went remarkably quiet and became extremely hot. The seawater pump had sprung a leak which had demolished the electrical innards of the pump as well as corroded its relay and voltage regulator. More about this on the technical page of Ngahue IV. This issue was quickly repaired, despite initial warnings that replacement parts might not be available in French Polynesia... After two days without, we were back to ice cubes in our G&Ts!!!
In true tropical style, the weather in Tahiti has its (wet) ups and downs. It's always unwise to leave open hatches unsupervised as a sudden tropical downpour can inundate the boat's interior. At one stage we had an excursion to Moorea lined up and were about to get on the ferry from Papeete to Moorea. Our guide in Moorea advised us not to get on board and to postpone our trip until a week later. It seemed like a good idea, as looking at beautiful landscapes hidden in white clouds isn't exactly the way to discover the sights. After a few weeks each time, the boat's waterline needs to be "weeded". A fresh water river flows into the marina and encourages green grass to grow on the boat... Apparently when anchored out in the harbour's bay there is no growth on your hull; but the locals are sick and tired of seeing so many masts out in the bay... Faced with this popular backlash, the local yachting authorities responded with a series of interviews which were published in the local press underlining the fact that visiting yachts WERE welcome... Fact is though that the local authorities have issued a number of new regulations to avoid French Polynesia being overrun by visiting yachts dropping their anchors all over the place. The good old days of just doing as you like are also disappearing here - probably not a bad thing and it certainly helps preserve the environment for future visitors...
For more than 2 months we had looked at sunsets and sunrises over Moorea, the little sister-island next to Tahiti. After a first attempt that was postponed because of bad weather, we finally managed to visit Moorea and run around the island with a quad. The result of our trip is captures in a short video on You Tube. Two days later, the Aranui 5, a combined freighter & passenger ship which supplies the various smaller islands of French Polynesia, held an "open day". We took advantage of that possibility to go and inspect our future cabin on the Aranui 5: during the second half of July 2020 the Aranui 5 woulkd enable us to visit some of those Polynesian islands that we missed out on when we were required to sail directly from the Galapagos to Tahiti in March 2020!
A cruise on the Aranui 5 is mostly seen as a 'once in a lifetime experience'. Our trip was the first after the long period of the Corona virus confinement. It was used by the Aranui management as a test case for starting up the vessel's travel arrangements with the new social distancing rules in force. Certainly the people living in the Marquesas and the Tuamotus had been starved of tourist and visitor presence since March 2020, which had hurt their earnings. But at the same time, fearful of a repeat of past experiences with the white man infesting and decimating the population, the inhabitants of both archipelagos feared picking up this terrible disease called Covid-19. The Aranui management was well aware of this fear and did its utmost, with the full support of the vessel's whole crew, to ensure that the Aranui 5 would not be a source of contamination in any of the places visited. Passengers were screened, tested and temperature taken before each visit; face-masks were worn, hands washed and social distancing properly enforced.
During our trip (see the separate 4 short videos posted on You Tube - links on the You Tube/media page) we visited 3 Tuamotu islands and 6 Marquesas ones. We enjoyed lectures on board (by Michèle De Chazeaux) had daily briefings on what we would see the next day. It was literally a densely packed cruise, starting before daybreak and mostly carrying on well into the night. Clearly when we got back on Ngahue IV, we needed a couple of days to get back into a normal lifestyle and rhythm! It would be impossible to mention all the highlights of this two-week trip: there simply were too many. But two exceptional islands do deserve a special mention; they were included for the first time in the Aranui's schedule were Apataki and Makatea and turned out to be a resounding success for the passengers and for the local inhabitants. Here are just 3 photos from a collection of a thousand on my computer (Laura took many more!). These two paragraphs do a terrible injustice to the beauty of this trip with the Aranui 5 - hopefully our 4 You Tube videos will make up a little for it!
Shortly afterwards, my trusted Hewlett Packard laptop stopped working - so for my "computer life" to be continue a new laptop was needed, preferably with all my old programmes installed on it. Finding a version of my "ancient" Homesite to install on the new Laptop was a chance discovery, much like the early European navigators finding the islands in the Pacific. There is just one problem generated by Windows 10, namely that our weather programme Squid is not recognised as a safe programme and cannot be installed. Hopefully after a visit to the vendor to temporarily deactivate Win 10, all will be OK!
So what's next after August 2020? Our intention was to continue with our original plan, which was to sail down to New Zealand in late September or early October. It'll be a last moment decision whether we go via Fiji or not... This will be in the hands of the Covid-gods and how the local authorities deal with the crisis! Once in New Zealand, we would like to return to Europe for about 6 weeks around Europe's festive season (and hopefully get back into NZ in 2021 without too many hassles). But given the twists and turns of the Covid-19 pandemic, we can only take things as they come and see which of our many plans can be executed... Plan B, C, or ....Z (after the infamous plan of Admiral Raeder for the German Navy in the 1930s) - whatever works out!
This page is now complete - please move on to Circumnavigation Page 10...
Return to Circumnavigation Start page