Photo gallery 2017

Selected pictures from 2017 - Scroll down for narrative of what we got up to...
Narrative accompanying the pictures for 2017 - Starting at the top left-hand corner...
Well, after 8 years, it looks as if by the end of 2017 I will be returning to Saint Lucia! This was the view of Castries that I had from my hotel Auberge Seraphine in 2009 when I was there for my work. How much will have changed?
And another flashback going even further to 2004: Dover Castle with Pappie Louis (see Himself & Herself page) and Du Vent et des Voiles skipper Michael - all a bit younger! Strangely enough, moored in Dover marina, was a Hallberg-Rassy 43 called Pytheas, which was to become the later Ngahue III!
Winter hobbies: preparing the Solbian solar panels to be fitted to the bimini... Our living room floor filled with Rössy textiles ;-). Two pictures of our shiny new 55kg Vulcan anchor which will keep us firmly attached to the bottom during our circumnavigation! The Aquatec water-maker's high-pressure pump in its packaging. And our penguin mascot overseeing operations...
It's already the end of March and relatively little has been put up here; basically because we have been working very hard to prepare the boat and don't even take time for photos... Successive pictures show my son Julien sitting on the hard top after helping me to lift the last 2 Victron batteries in place and lower 4 of these 65kg beasts to terra firma, where Karl of Belgian Boat Service took over to send them off for recycling. Many e-mails have gone from Brussels to Ellös (HR Parts) and back where Mellie Rassy has been preparing a new "pot" for the engine room. Once installed, this water-filter pot with supply the generator, the aft toilet and the watermaker with filtered sea water.
We're after Easter and fast approaching the launch date we set ourselves - here the rear wall of the engine room with the various filters and connections for the Aquatec watermaker in place, the pump for the Jabsco electric toilet, and the filters for the normal water system. Sticking out just above the aluminium walkway, is Mellie Rassy's new pot, which now also provides filtered water for the freezer compressor, the toilet, the generator and the water maker! When digging around the engine room, we found the unused seawater outlet that the Yard had originally used for some other purpose! Many hurrahs as it meant we didn't have to drill new holes in the hull and could "recycle" this outlet.
And then, suddenly, things start moving! The last weekend of April, and going into the May Day bank holiday, Karl & Koen Mussly moved us out of the Belgian Boat Service winter boat storage area. Their neighbours, Aqualift, came along with two of their cranes and put our mast back in the upright position (as explained last year, our mast is a mightily heavy thing, requiring a solid and stable crane to lift it high enough). Subsequently "Popeye" turned up (Popeye is the name that the Mussly brothers gave to their boat lift - it can be seen in the background of several pictures) to remove us from the boat cradle which had held the boat for the previous 8 months and drop us off in the water. En passant, we were superbly helped by our new friends Gerrit and An of HR53 Sophia! Yes, Nieuwpoort has TWO Hallberg-Rassies 53 in the marina! So far so good: we were back in our normal berth, ready for the additional work to be done on the boat's engine, generator, electronics, electrics and communication equipment. To be followed by mast hydraulics and a complete set of new sails from Elvstrom. Oh, and also added, a picture of our new life-raft - coming to a Hallberg-Rassy near to us, soon... It was duly fitted, with a couple of return trips to the seller, because not all the correct fittings had been supplied.
Inside the boat, work continued on improving our comfort at sea. Testing out various settings for the ceiling nets which should hold our fruit and vegetable whilst out cruising; "Pingu", our mascot penguin (guardian of 4 different Hallberg-Rassies! Laura has finally given him a name) being used to simulate the contents of our nets! After Dave & Paul of Maricom (see detail in About Ngahue) had spent a week working on the boat, the chart table area now sports a "Captain's Telephone" as well as a laptop computer that's linked to the world and internet via an Iridium Pilot satellite phone.
With all these preparations taking up a lot of our time, we managed to sail exactly 23M before setting off on our ARC "shake- down" cruise to the Canary Islands. It was not how we had originally planned our departure from Nieuwpoort, but the misadventure we'd experienced with the sale of our HR43 in 2016 continued to have negative knock-on effects in 2017. Well, we did manage to keep everything going and ticking. But only just. One picture here of Ngahue IV berthed in Falmouth's Mylor marina, and another one with a beautiful sunrise over the Bay of Biscay - which we crossed in very calm conditions and even had to motor 2 consecutive days (this unfortunately led to us "cooking" two of our 6 new Victron AGM house batteries).
When the boat was lifted in Lanzarote (in a super-huge boat travel lift), this was the sad spectacle we saw of the damage done by the fishing net. Of course no fisherman spontaneously came around to offer to pay for the damage caused (what a naive thought...). On deck just the part of the net we managed to cut off - the second part that remained around the prop was quickly carted away by our diver... But when walking around Muros, we saw loads of identical netting littering the quayside. In all, it was about 5m long and approx 2m wide, discarded as a useless off-cut by a careless fisherman! And not to worry about dolphins, turtles, or Flex-o-fold propellors that get caught up in it...
The last main picture is our boat, Ngahue IV, being relaunched in Nieuwpoort in May 2017. After months of working on her "inside" in the boat hall of Belgian Boat Service, her keel is wetted again in preparation for her circumnavigation. The crane, which is a special tractor that actually drives into the water, was called Popeye by the 4 brothers who took over this family-run business in Nieuwpoort from their parents (together with their 2 sisters). Over the years, as the respective Ngahues grew in size, more bow and stern could be seen protruding from Popeye...
Our friend, Kamel Labibes, the current owner of Bou Mou, a well-kept Arpège sailing yacht, sent us this picture of his boat sailing this summer. Bou Mou is currently in the Mediterranean, having been taken there by Kamel and Pascal Deltenre plus two members of the Brussels-based sailing club Du Vent et des Voiles (DVDV). For Laura and my relationship with Du Vent et des Voiles, please see more on the Skipper's page.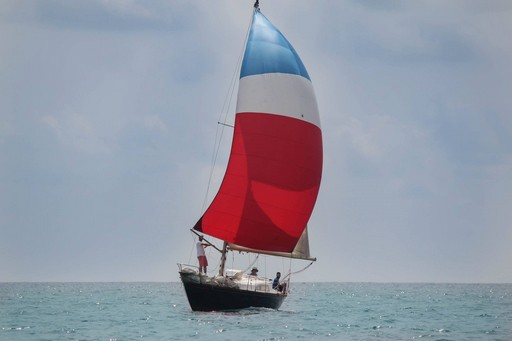 All our further activities in 2017 are - from here on - on our Circumnavigation pages - please refer to this link We're off circumnavigating Page ...
Return to Photogalleries Start page
Return to Homepage