Ngahue IV is a Hallberg-Rassy 53, which between 1992 and 1997 was the flagship in the HR range of yachts, described as The Queen of her Time in the recent (end 2022) book on the Hallberg-Rassy story (see photo - available through HR Parts for ±€50 and presented exclusively by Magnus Rassy at the November 2022 Captain's Dinner of The Hallberg-Rassy Connectie - our Dutch/Belgian/German HR sailing club). The Yard's flagship in 2023 will be an impressive HR69, succeeding the HR62 & HR64 as the Yard's biggest boat.
Hallberg-Rassy Varvs AB is a leading Swedish boatyard, based in Ellös, just north of Gothenburg on the west coast of Sweden. The fascinating company history of Harry Hallberg and Christoph Rassy can be read on the HR website or in much more detail in the above-mentioned book which came out in November 2022. The company is currently managed by Magnus Rassy, the son of Christoph Rassy (who sadly passed away in 2022 and whose award-winning contribution to Swedish boatbuilding is explained in the book The Boatbuilders on Orust, written by Eva Borge & Margareta Bremetz). Magnus Rassy brings a passion and modern vision to the company's range of yachts which is truly unique and will certainly prolong Hallberg-Rassy's reputation for years to come as THE boat that everyone wants to own! Indeed, each year the leading German magazine Yacht publishes a readers' survey revealing their most desired sailing boat. And Hallberg-Rassy, for the last many, many years, has come out tops! "Mit Abstand", as the Germans would say: or far ahead of the other brands!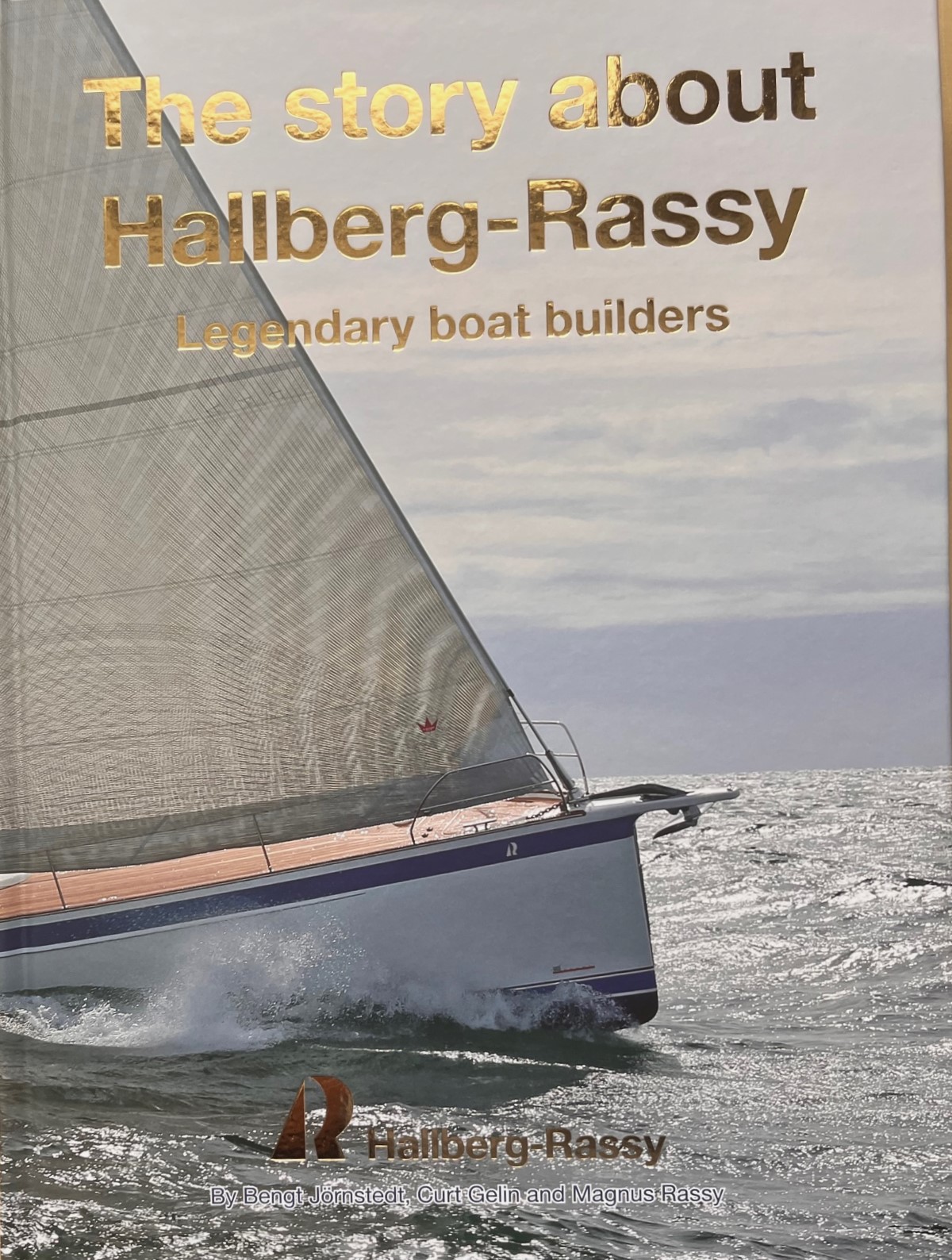 Hallberg-Rassy built 88 units of its HR53 model between 1992 and 2006. Ours is hull number 19; she is therefore a relatively early one in the series. She was completed and launched in May 1995. Today (nearly) all boats are alive and well: sailing the oceans and seas of our planet. Hallberg-Rassy updated the Previous Model HR53 web-page on the company website. Via this link you can find out much more about this model, see plans, photos and read a commentary from its designer, the well-known Argentinean naval architect Germán Frers.
Ngahue IV was acquired by us - Marco & Laura (for more on us, see The Skippers' page) - during the spring of 2016. She was at that stage already a venerable lady of some 20 years of age. But as the bigger Hallberg-Rassies are generally 'built like tanks' (dixit Carl Adams of Adams Boat Care, a Yard that specialises in refitting Swedish yachts and Hallberg-Rassies in particular and which is situated not too far from Ellös), and our future boat had spent much of her life in the Baltic Sea, her age was of no real concern to us. Under the two previous owners, Ngahue IV was respectively known as 'Christina' and 'Tabaluga' (the latter name being the name of a green dragon in a late twentieth century children's television series on German TV).
We bought our boat from Herr Dr. Bierhoff, owner of 'Tabaluga', when she was based in Kiel, Germany and renamed her Ngahue IV, my fourth Hallberg-Rassy yacht to have this Maori (New Zealand) navigator's name. Dr. Bierhoff actually returned to Hallberg-Rassy sailing in April 2019 with an HR54 which he purchased in Bruinisse (NL). Unfortunately owing to some very sad family circumstances the new Tabaluga was sold a few years later.
The first Ngahue, a Hallberg-Rassy 29 which I owned from new from 1990, is very much alive and well and since end 2022 sails out Blythe (UK); she looks as good these days as in August 1990. We actually crossed tracks with her in the summer of 2018, when she was under the ownership of a Yachting Monthly Editor, and her general condition (judging from the photos that were posted when she was for sale in October 2022) says something about how well Hallberg-Rassies keep when they are well-looked after.
Ngahue II, an HR37 which I also acquired from new in 2004, is successfully raced and sailed by Ron Houston in the U.K. and far beyond. She too looks in fine fettle on the few photos Ron sometimes shares with us!
The former Ngahue III, an HR43 also from 2004, and which I acquired in 2013 has embarked on a new future under a different name with a Dutch owner from Friesland.
Germán Frers, who has designed all Hallberg-Rassy yachts since 1989 (when he started with the new HR45 design for the Yard) and whom we had the honour and pleasure of enthusiastically shaking hands with at the 2017 Düsseldorf BOOT show, developed this excellent 53-foot design (which is actually just over 54 feet long - or 16m44 in metric terms). He came up with an ocean-going boat that is both fast (at least she was considered as such in her days and has nothing to do with the fact that we sail our HR53 very slowly) and very comfortable. He described his design as "graceful elegance, which will be maintained regardless of time". We fully agree with this assessment, and always recognise "our" boat out of dozens of others in marinas and anchorages.
Like all Hallberg-Rassy yachts, the HR53 is easily sailed by just two people. In fact, both of us are able to sail her single-handed when the situation arises, even in quite crowded marinas and in challenging cross-wind circumstances. The HR53 is amongst the first models where Hallberg-Rassy fully developed its successful "push-button sailing" concept. Test reports of the HR53 in the 1990s were most positive! But there seem to be only two reviews that remain available today via the Internet: a commentary by Bob Perry in Perry Design Reviews, as well as a short page in Sailboat Data... Remember, then was not yet a pervasive digital age.
To summarise, Ngahue IV is:
> Built by the top boatyard Hallberg-Rassy Varv in Ellös, Sweden
> Designed by that world renowned yacht designer Germán Frers
> Extensively equipped for comfortable long-distance and blue water cruising with a crew of 2 (or more)
To find out more about Ngahue IV, please browse our website and click on the different headings in the left column. These will take you to the relevant (sub)pages where we share our activities on board. Since setting out on long-distance cruising, to help see where Ngahue IV is currently located, we've added a "Yellow/Brick" page with a link to our position tracker. This shows our travels since February 2018, starting from Antigua, when Laura first programmed our very own Y/B tracker. The Yellow/Brick page is the last link in the left-hand column.

Since January 2019, we also created a reasonably well-followed Facebook page for Sailing Yacht Ngahue IV. It took some experimenting with different page-settings to get there! Here's a link to: Ngahue IV on Facebook which you are most welcome to visit and follow. Facebook is easier to update than a web site, so the news on it tends to be more up-to-date. And since August 2019, Laura has added, after being encouraged to do so by Magnus Rassy, an Instagram account @sailingyachtngahueiv, which has clocked up several hundred followers. Here is the link: Ngahue IV on Instagram.